Zucchini-Corn Sauté, Spinach and Beans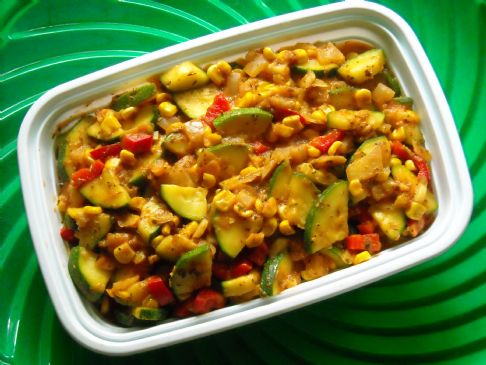 My friend, Sharon, shared my healthy-cooking kick some years back. Thoroughly enamored of my easy microwave ratatouille recipe - which I will post - she kindly shared two of her own delicious veggie dishes which I then fell in love with. This first one is not only healthy and fresh with bright summer flavors, but colorful, too. The second recipe is light and satisfying, and so easy to make!
Zucchini-Corn Sauté
1t oil
1 onion, diced
2 –3 cloves garlic, minced
2 zucchini, quartered and sliced thinly
1¼ cup fresh corn with juice (you can sub frozen, but it's not as good)
½ t basil
1t seasoned salt (optional – I sometimes use a reduced-salt version of Emeril's Essence)
1 cup tomato sauce
½ cup diced sweet red pepper
½ - 1½ cups cheese substitute (I use nutritional yeast)
parsley for garnish optional
Sauté onion, fresh corn and garlic in oil until onion is transparent. (Sharon adds the sweet pepper here, too. I wait until the end to maintain the fresh texture.) Add zucchini, basil and salt, if using. Cook and stir over medium heat until squash is half cooked. Add frozen corn, if using, tomato sauce, sweet pepper and cheese substitute. Stir until creamy and serve.
Spinach and Beans
1 onion, chopped
2 cloves garlic, minced
2T lemon juice
4T water
2t dill weed
1t basil
1t oregano
½ t black pepper
1 bunch fresh spinach or 10 oz frozen, thawed
1 can white beans, rinsed and drained
Sauté onion and garlic until onion is transparent. Add lemon juice, water, seasonings and spinach. Cook and stir until spinach wilts. Remove from heat, stir in beans and serve over brown rice or pasta.